If you have spent any time looking into ways to whiten your teeth, then you probably already know that there are a number of options available, depending on your priorities. There are all-natural methods, DIY methods, and professional methods. With so many options for whitening teeth, you might be confused as to which way really is the best for you. Today, we will take a look at some of the top ways that you can brighten your smile. Be sure to contact Progressive Dental in OKC to learn how we can help make your smile even whiter!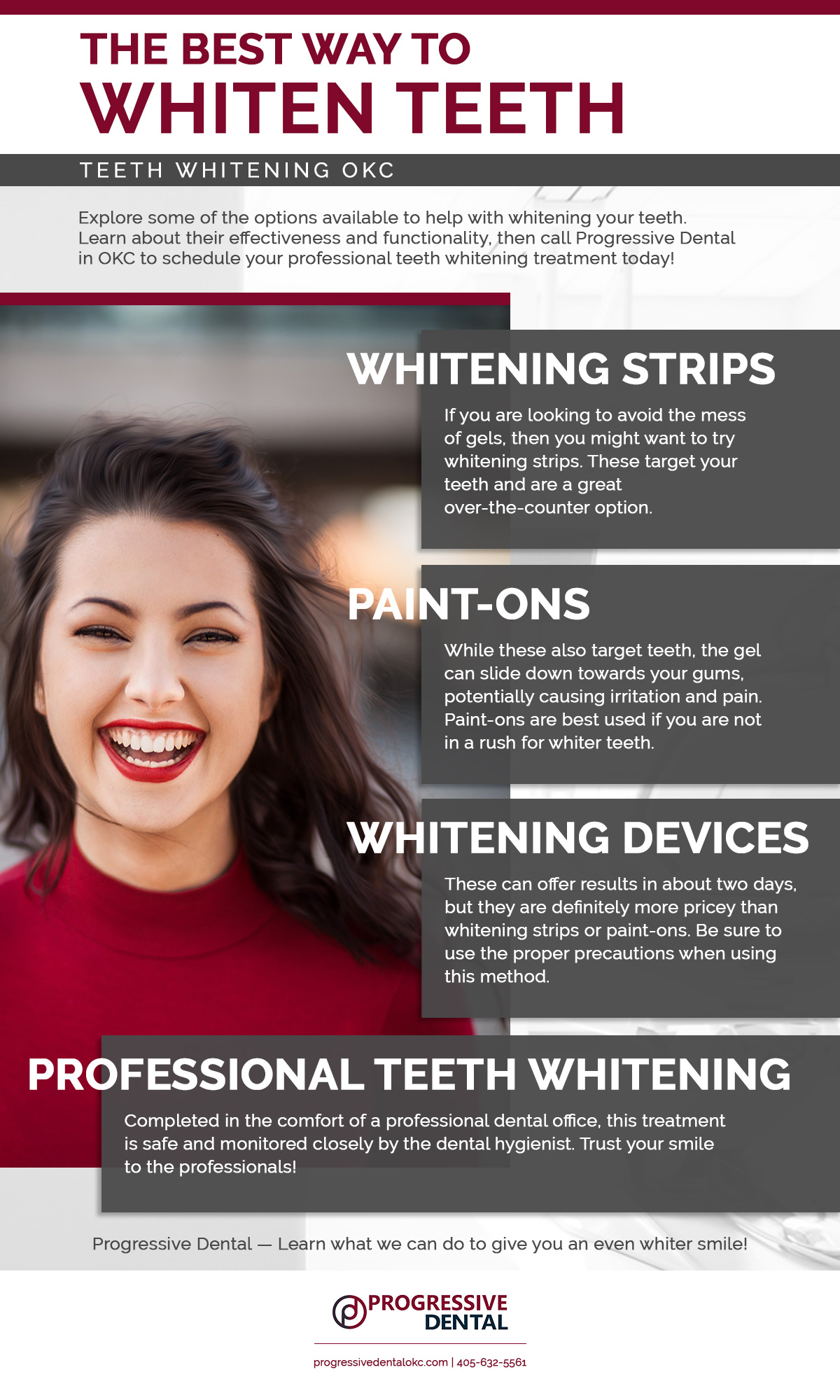 At-Home Whitening Products
If you have teeth that really do not have stains, or at least stains that are merely superficial, then you might want to consider using an at-home teeth-whitening product such as strips, toothpaste, or even rinses. The products available on the store shelf generally have a mild bleach that helps to brighten teeth that may appear yellow. Whitening toothpastes tend to use an abrasive substance as well as chemicals to help remove surface stains. If you have stains that are deeper, then you will want to contact Progressive Dental and schedule an appointment at our family dental practice in OKC.
Whitening Strips
Whitening strips were offered as an alternative to whitening trays. Researchers were able to figure out how to insert hydrogen peroxide into the polyethylene strip that users would place on their teeth. For an over-the-counter product, this is a great option that should deliver results in just about two weeks. One point of caution, however, is that you must be careful not to rest the strip on your gums as it could cause irritation over time.  

Paint-Ons
Paint-ons are able to target teeth directly which omits contact with your soft tissue. If you choose this method, you will need to make sure to choose a gel that won't slowly slide down into contact with your gums. One downside to this product is that because it is not a closed system, the whitening oxygens will escape from the gel as it rests on your teeth. If you are patient and have about two months before you need to see the results, then this product could work for you.
Whitening Devices
While these are not a replacement for a truly professional teeth whitening treatment, they can offer results in about two days using high-intensity lights and heat. If you are worried about some of the other methods causing gum irritation, then this might be an option for you as these devices use a non-migrating gel.  
Professional Teeth Whitening
The most traditional method for professional teeth whitening is bleaching. A rubber shield or gel is usually placed on the gums for protection. The whitening product is then applied to the teeth using a tray that fits like a mouthguard. A dental hygienist will supervise the process while you are in the office. 
When you come to our warm and inviting dental office in OKC for your professional teeth whitening treatment, you can expect that we will take the time to go over any questions you may have. Our goal is to ensure patient satisfaction with each appointment. We look forward to meeting with you and seeing how we can help with your teeth whitening treatment.